News of August 2016
25/8/2016
The theme for Conservation Week 2016 is 'Healthy Nature Healthy People', to encourage people to become aware of the link between a healthy natural environment and their own health.
The Department of Conservation website has many suggestions for joining in with events throughout the country, competitions, activities at home, school, or in the community, and resources for teachers at all curriculum levels.
See NZ Curriculum Online for links to further resources and ideas for getting involved.
25/8/2016
Tonga Language Week / Uike Kātoanga'i 'o e Lea Faka-Tonga takes place in 2016 from from 4 to 10 September. The theme for this year is 'Fakakoloa 'a Aotearoa 'aki 'a e Loto'i Tonga' (Enriching Aotearoa with the Tongan Spirit).
This resource page from NZ Curriculum Online has links to ideas, resources, and inspiration to help you learn and celebrate Tongan language and culture with your school community.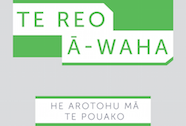 18/8/2016
He rauemi matihiko tēnei e taea ai e te kaiako te whakapakari i te reo ā-waha o te ākonga mā ngā ngohe reo ā-waha me ngā ngohe whakarongo. Mā ngā ākonga kei ngā taumata 1–4 o Te Marautanga o Aotearoa me ngā whakaakoranga rūmaki reo Māori taumata 1–2 tēnei rauemi. E toru ngā kōwae ako mā ngā taumata e toru: Tau 1–3, Tau 4–6, me te Tau 7–8. E rima ngā ngohe mā ia taumata.
This is an online, digital teachers' resource that aims to help students develop their oral language. It includes activities that focus on developing speaking and listening skills. This resource is intended for students at levels 1–4 of Te Marautanga o Aotearoa who are engaged in level 1–2 Māori language immersion education settings. The resource includes unit plans for three levels: Years 1–3, Years 4–6 and Years 7–8. 
16/8/2016
The research section of New Zealand Curriculum Online has been updated with the latest 2016 reports covering a number of curriculum areas. 
15/8/2016
These indicators replace the trial version from May 2015.
The School Evaluation Indicators: Effective practice for improvement and learner success is for schools to use for internal evaluation to identify practices that are working and practices that need to change in order to achieve equity and excellence.
ERO uses the School Evaluation Indicators in its external evaluation of schools.
If you have a review coming up in the next term and prepared for it using the trial indicators, they are still valid. However, by term 4, ERO expect schools to be using the final indicators.
15/8/2016
Further advice from the Ministry of Education on applying for centrally-funded PLD for 2017. You will be able to apply for PLD every term starting in term 4 2016.
5/8/2016
International Languages Week takes place this year between 15 August and 21 August.
This special week provides an opportunity to showcase and promote languages and cultures in your school and communities. 
International Languages Week supports the curriculum principles of cultural diversity and inclusion, and provides a useful context for students to develop international capabilities.
This page from NZ Curriculum Online has ideas and links to resources to help you celebrate.
5/8/2016
Engaging stories, articles, plays, and poems are now available online in the August 2016 level 2 and level 3 School Journals.Teacher support materials for these journals are also online.
1/8/2016
Free one-day workshops
The Connected Learning Advisory is offering free one-day workshops for school leaders and leaders of digital technologies.
Explore effective ways to manage and plan how your school uses digital technologies for learning.
Workshops are being held in:
Whanganui – 23 August 2016
New Plymouth – 25 August 2016
Connected Learning Advisory term 3 webinars:
Register for these free webinars hosted by the Connected Learning Advisory:
1/8/2016
Cook Island Māori language week is 31 July – 6 August. The theme for this year is Kia ariki au i toku tupuranga, ka ora uatu rai toku reo – To embrace my heritage, my language lives on.
For ideas, resources, and inspiration to help you learn and celebrate the languages of the Cook Islands with your school community go to the Resources page on Enabling e-Learning.